Tues. April 13th (today) we will be having a 11th & 12th grade Class Meeting at 6 pm. This meeting will be covering clarification regarding Prom and Graduation. If your son/daughter is in 11th grade and not planning on attending Prom, you will not need to attend. After the Prom discussion, 11th grade students/parents will be asked to leave. We will then discuss graduation. If you are unable to attend information will be posted on Schoology or available for pick-up in the HS Office. Here is the link to the meeting if you would rather attend via Google Meet: 11th and 12th grade Meeting Tuesday, April 13 · 6:00 – 7:00pm Google Meet joining info Video call link:
https://meet.google.com/pkt-mpcc-csj
Or dial: ‪(US) +1 318-433-2051‬ PIN: ‪101 982 361‬#
Attention Junior and Seniors!! Updated time of meeting for Tomorrow, Tues. April 13th... 11th and 12th grade Parent/Student meeting at 6 pm in the HS Gym.
Conferences will be held tomorrow, Tues. April 13th. Home Room Teachers will be contacting their families between the hours of 3:30 and 7:30 pm. NO IN PERSON CONFERENCES! 11th grade Parent/Student meeting in the HS Gym at 6:00 pm 12th grade Parent/Student meeting in the HS Gym at 6:30 pm
Sending off the Warroad Girls Hockey team in true WARRIOR style! The ladies head to the cities for the State Hockey Semi-Final game vs Proctor/Hermantown tomorrow, Thurs. at 11 am. GO WARRIORS! #goingforgold #our time We are so proud of you!
https://youtu.be/WVp4b0yYOv8
Warroad High School is proud to announce the A & B Honor Roll and Perfect Attendance! Congratulations for all your hard work and dedication!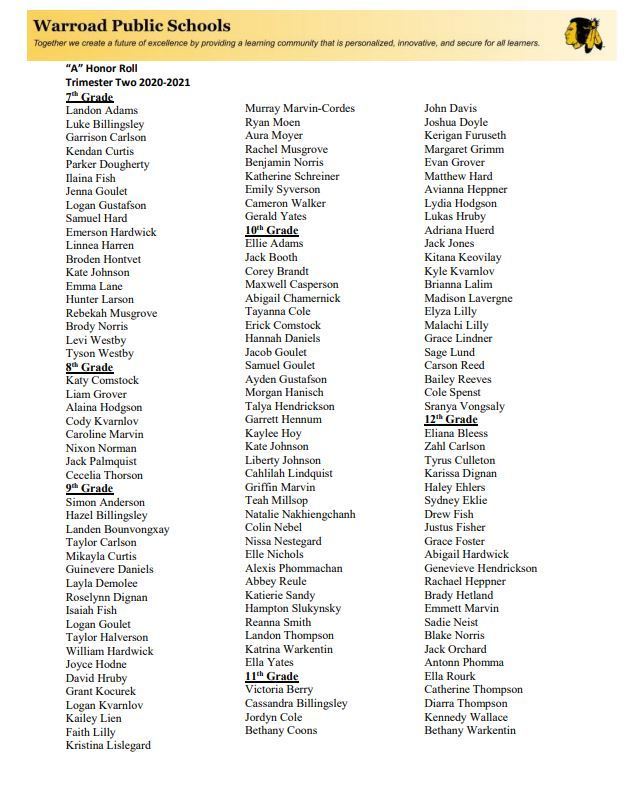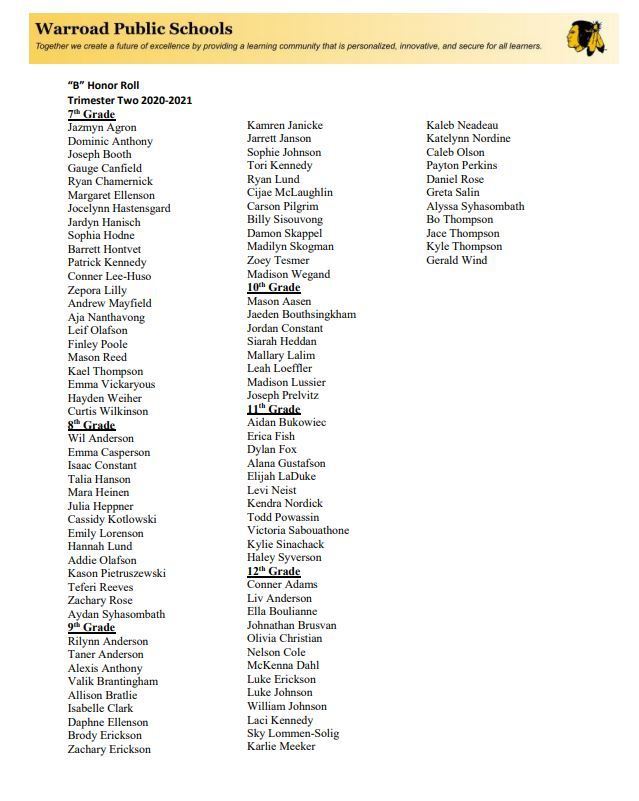 February 21-27, 2021 is proclaimed School Bus Driver Appreciation Week in the State of Minnesota. A huge THANK YOU to the Transportation staff that provide safe rides to the students of Warroad Public Schools!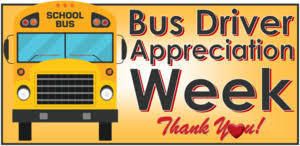 February 22nd through February 26th is Minnesota School Board Recognition Week. Thanks to the hard work of our school board members, our children are preparing for a bright future. Thank a school board member today!
This upcoming week is Frosty Week at WHS! Dress-up Days, LIVE STREAMED/COVID friendly mini Pep fest daily and Frosty Coronation is Monday, Feb. 22nd at 7:30 pm. Congratulations to our 2021 Frosty Court: 9th grade: Guinevere Daniels, Faith Lilly, Aura Moyer, Kyler Lien, Murray Marvin-Cordes, and Devin McCormick-Whaley 10th grade: Abigail Chamernick, Talya Hendrickson, Katierie Sandy, Erick Comstock, Garrett Hennum, and Landon Thompson 11th grade: Erica Fish, Kitana Keovilay, Elyza Lilly, Evan Grover, Matthew Hard, and Malachi Lilly 12th grade: Sadie Neist, Greta Salin, Kennedy Wallace, Diarra Thompson, Geno Hendrickson, Luke Erickson, Emmett Marvin, Jack Orchard, Sky Solig, and Nelson Cole Coronation can be streamed on our Social Media Youtube channel. Each family will receive two tickets to attend. Students will be able to sign up via a Google Doc link. Seniors will have first chance beginning Sunday. Please check your school email for the link to sign up. All other grades will be able to sign up beginning tomorrow at 10 am. Congratulations to all!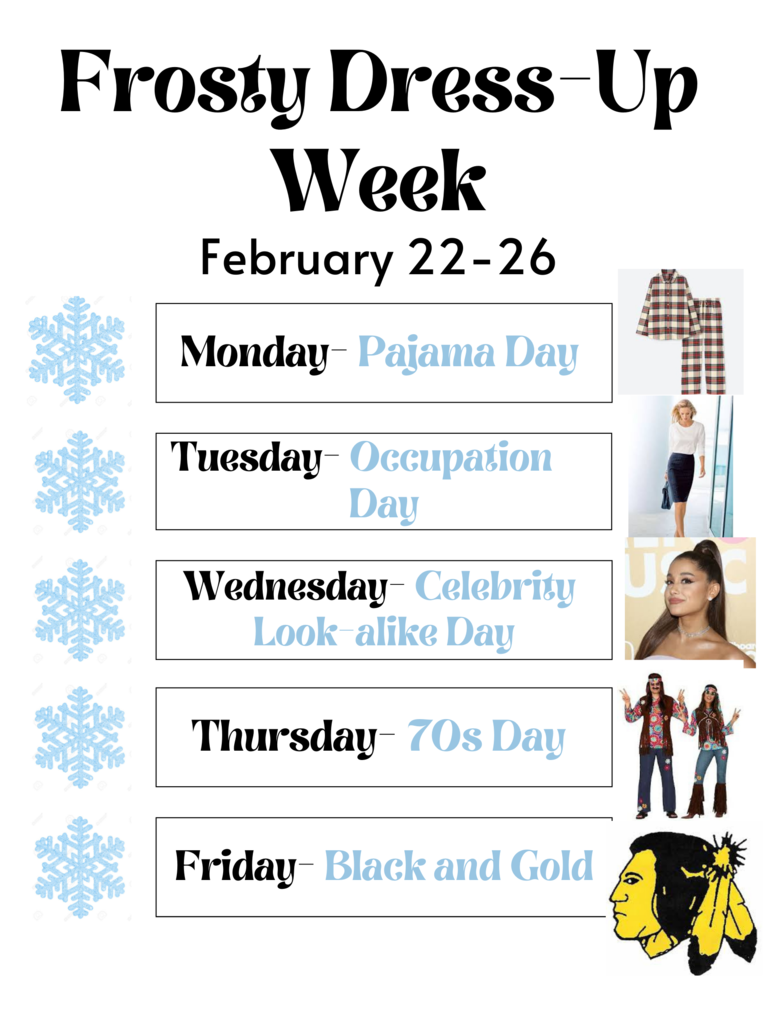 Spring sports registration is now open!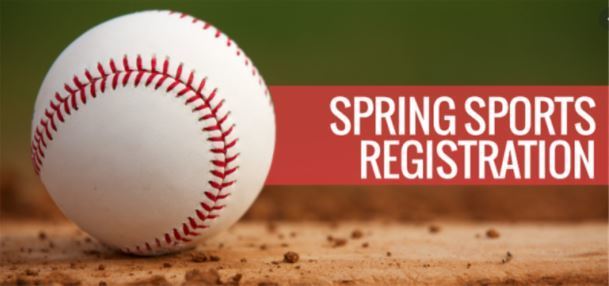 Girls Hockey Streaming for Saturday's Game: Here's how to watch the FULL production of Jefferson vs Warroad JV and Varsity Girls Hockey (BEC-TV award winning coverage with 5 cameras, announcers, replays, graphics etc) - No Fee - LIVE: -- BEC-TV Channel: Stream AppleTV / Roku Cable -- BEC-TV Facebook Page Notes: -- These games will also be on MNHockey.TV, a pay service. (This is a swell place to catch games BEC is NOT covering) BEC-TV's AUDIO FEED is slated be shared to that service, but they are unable to take our full video production. Viewers watching MNHockey.TV will only see the single automated camera (Not additional cameras, replays, etc)
Girls Hockey Tonight vs Gentry Watch it here: Gentry Stars girls live stream link
https://www.facebook.com/gagh.stars
We also have livebarn at TCO if your families have an account.
BH vs EGF Spectator Protocol for Tues. Feb. 2nd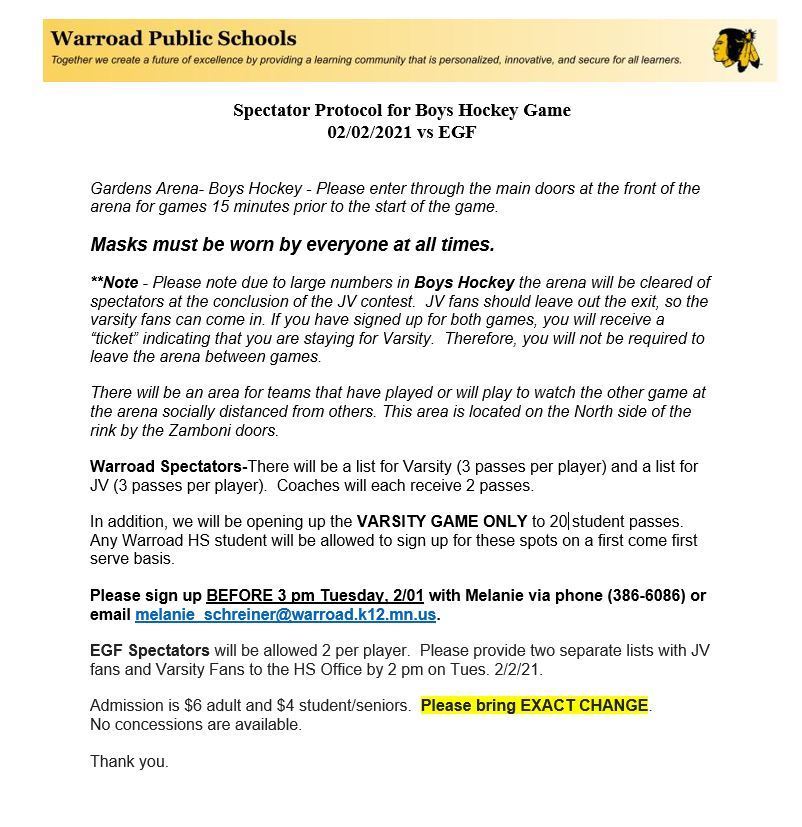 To stream Saturday's Boys and Girls Hockey games in Moorhead: go to spuds.tv .
Congratulations to our December 2020 Warriors of the Month!