Designated dates/times for Sports Physicals that are cash pay only and not ran through insurance. Cost is $30. Warroad Clinic: 218-386-2020 July 29th 12:40 pm – 3:00 pm with Chrissy Hanson, NP-C August 9th 12:40 pm – 3:00 pm with Chrissy Hanson, NP-C Important to note, there are sports physical appointments that can be paid for either with check or credit card; however, these are scheduled as a regular appointment or (if patient preferred) can be a well child check/sports physical appointment. Both of these regularly scheduled appointments are ran through the patient's insurance. *You need to have a physical form filled out prior to your appointment.* Physical forms are available in the high school office or available to be printed here:
https://www.mshsl.org/sites/default/files/2020-07/2020-21-sqpe-3-25-20.pdf
Fall registration is now open!! If you don't know your login information, please call the Community Ed. Office at 386-6028. Any incoming 7th graders, new athletes, and 10th graders will need to get a physical. Physical papers are available in the Warroad High School Office.
Community Service Hours Available! Sign Up today!!
Congratulations to our May 2021 Warriors of Month! We are proud of you!
WHS announces A & B Honor Roll as well as Perfect Attendance for Trimester 3. Congratulations!! Way to work hard, Warriors!!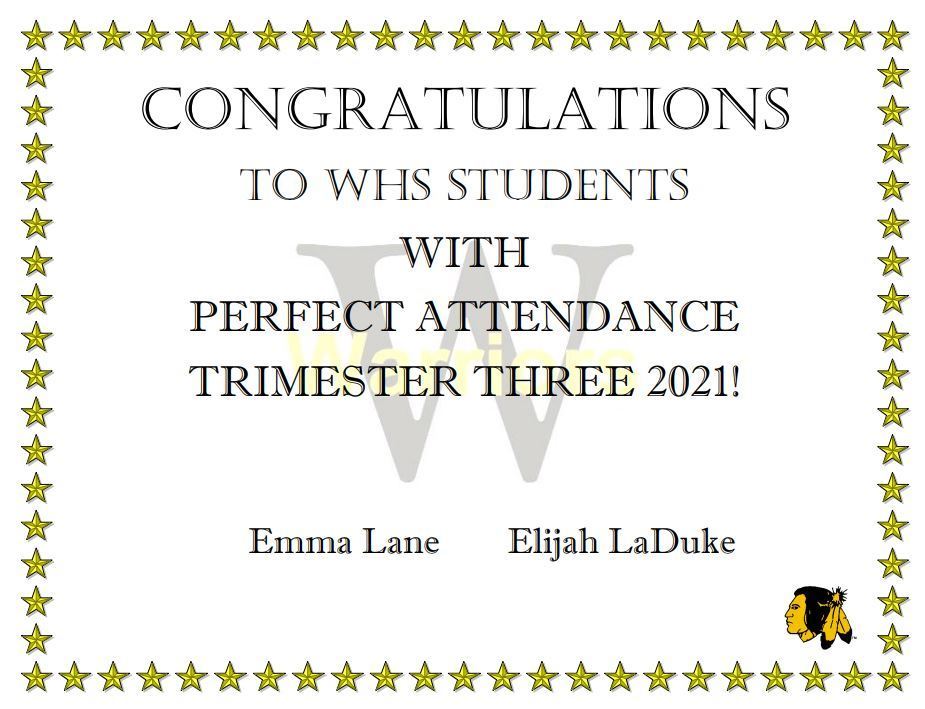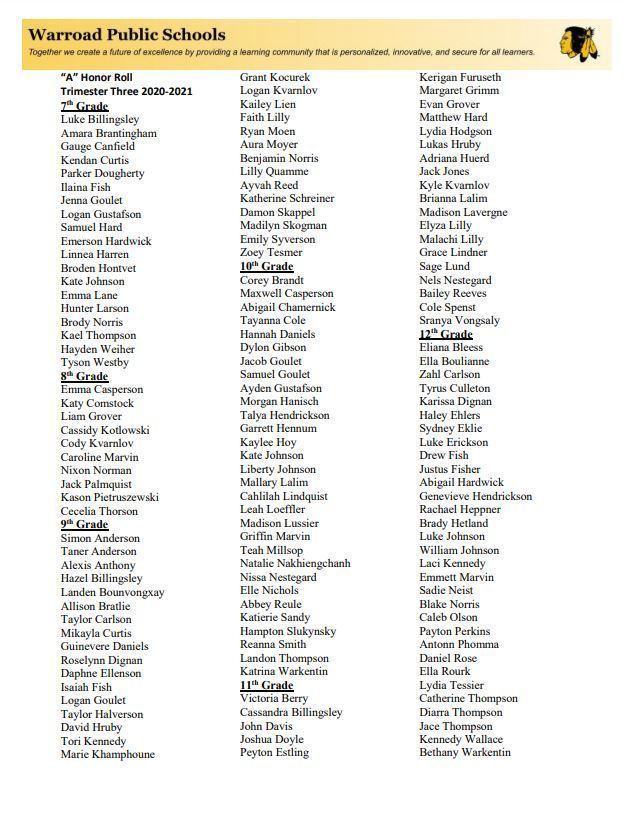 Information from Mrs. Lindner:

Congratulations to the 2021 Scholarship Award Winners!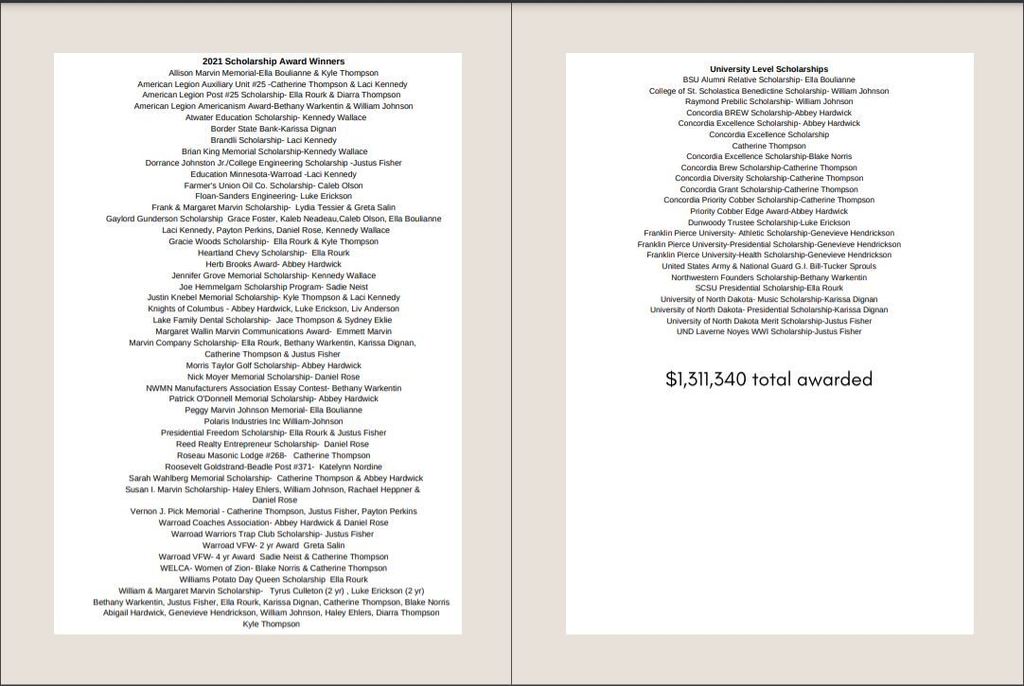 Today is Prom at Allison Park. Grand March @ 7 pm on Main Stage. Participants will promenade around the park as shown on map lead by the Prom Queen & King at the conclusion of the program. There will be a time for pictures with family and friends following. At 8:30 pm the dance will begin.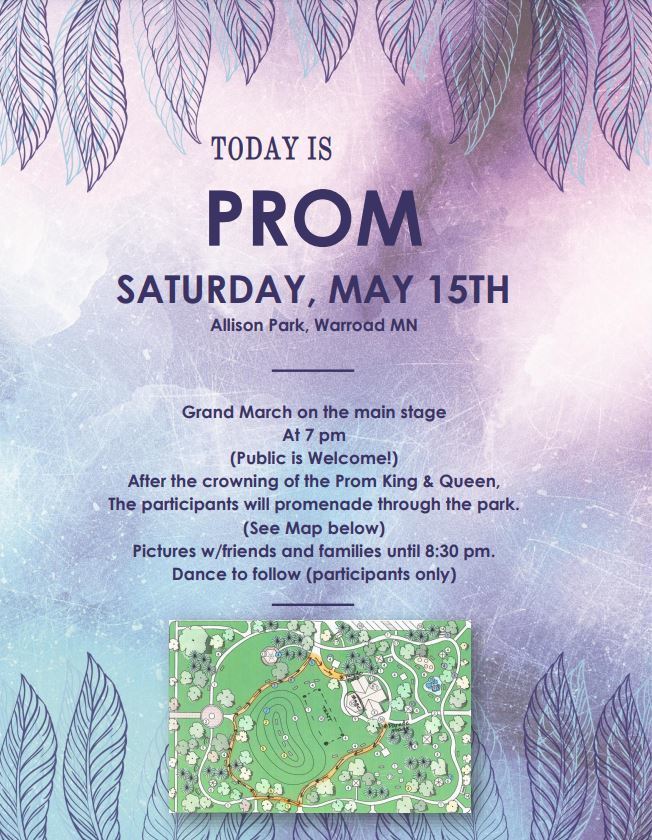 WHS Prom Grand March Allison Park at 7pm Saturday, May 15th Parade around the sidewalk (see attached image) at 7pm Formal Program to follow. Chairs WILL NOT be provided. Pictures with family/friends until 8:30 pm. Dance starts at 8:30 pm. Free Will Donation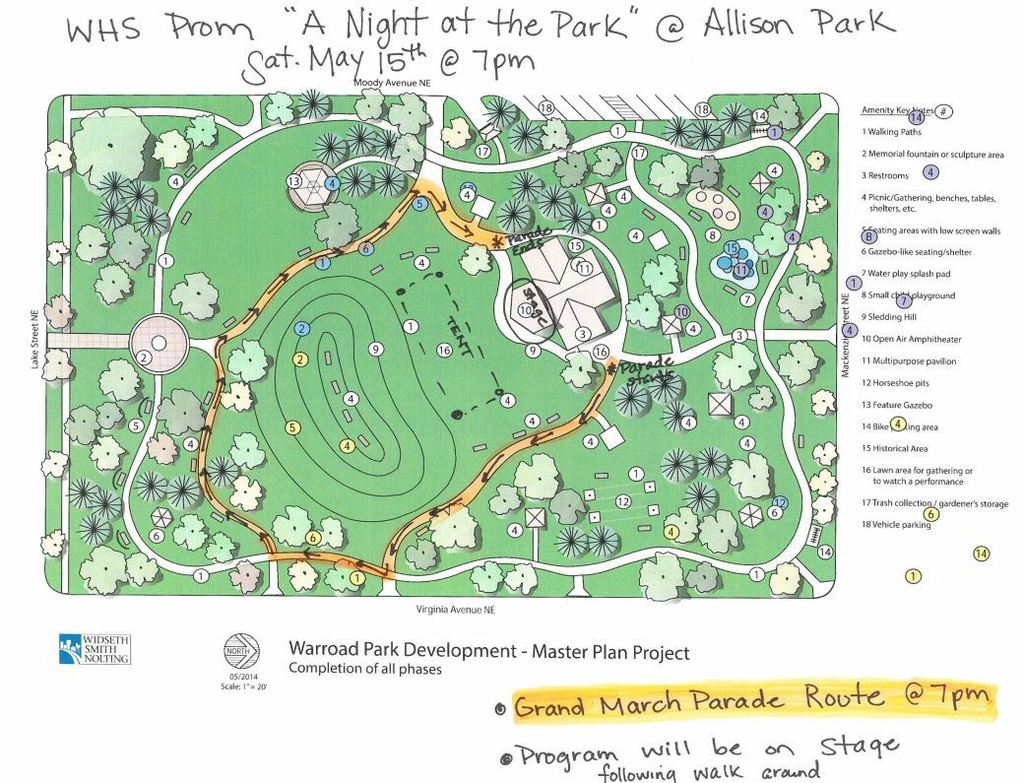 Prom is this Saturday, May 15th at Allison Park. The public is invited to attend Grand March at 7 pm. For more information, contact the HS Office.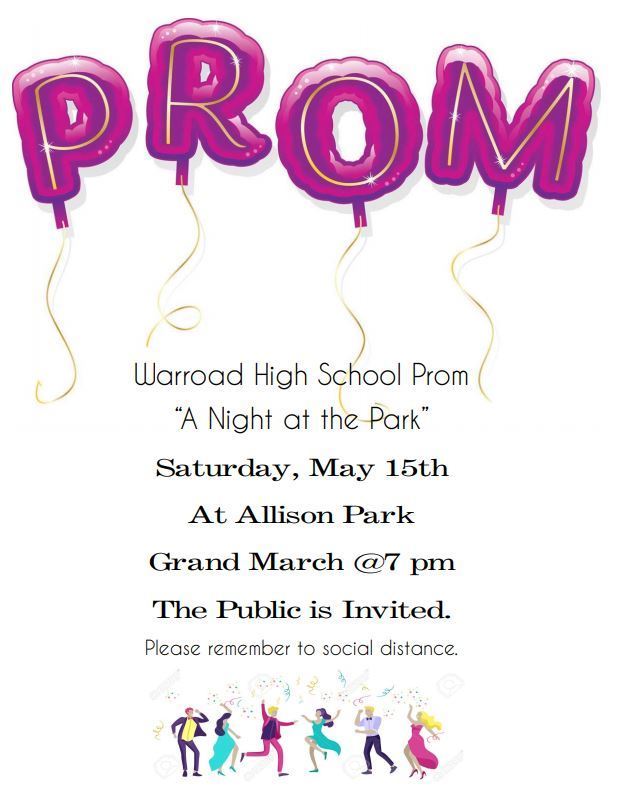 Wednesday, May 12th there will be a Mental Health Presentation given in the High School. Students will attend by grade. Thank you.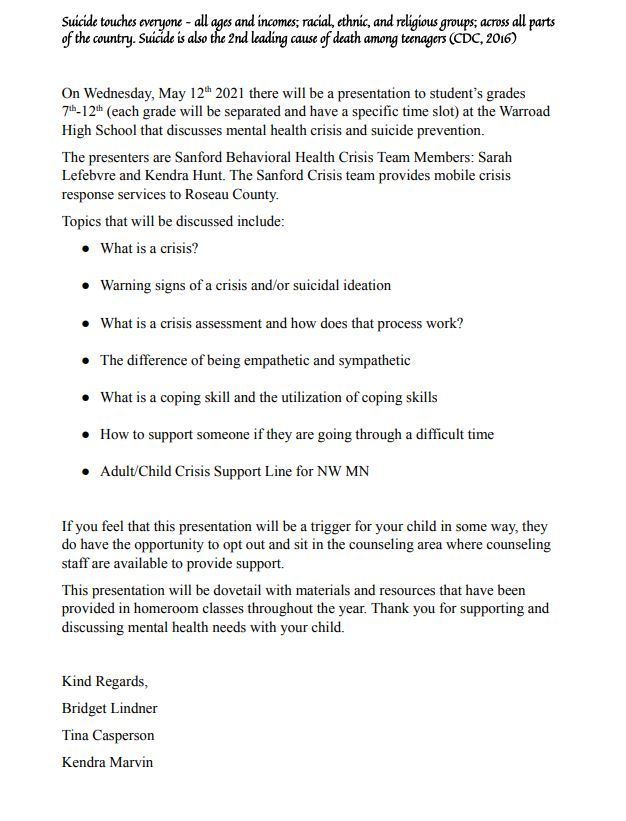 Congratulations to the 2020-21 Academic Letter Winners!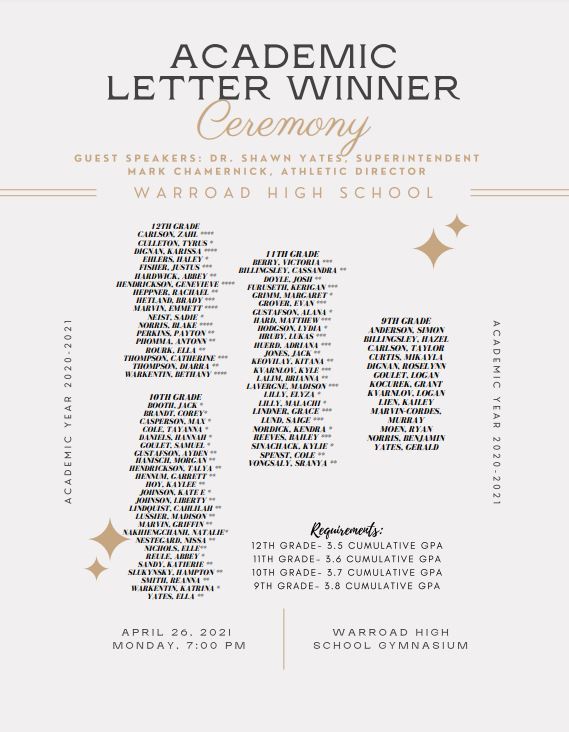 Summer Baseball is coming!! Sign up today!!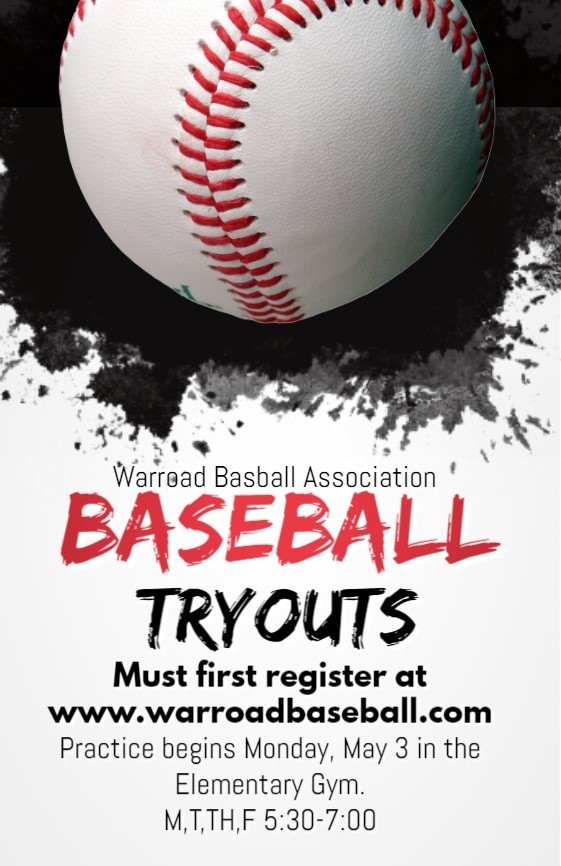 Congratulations to WHS Academic Letter Winners!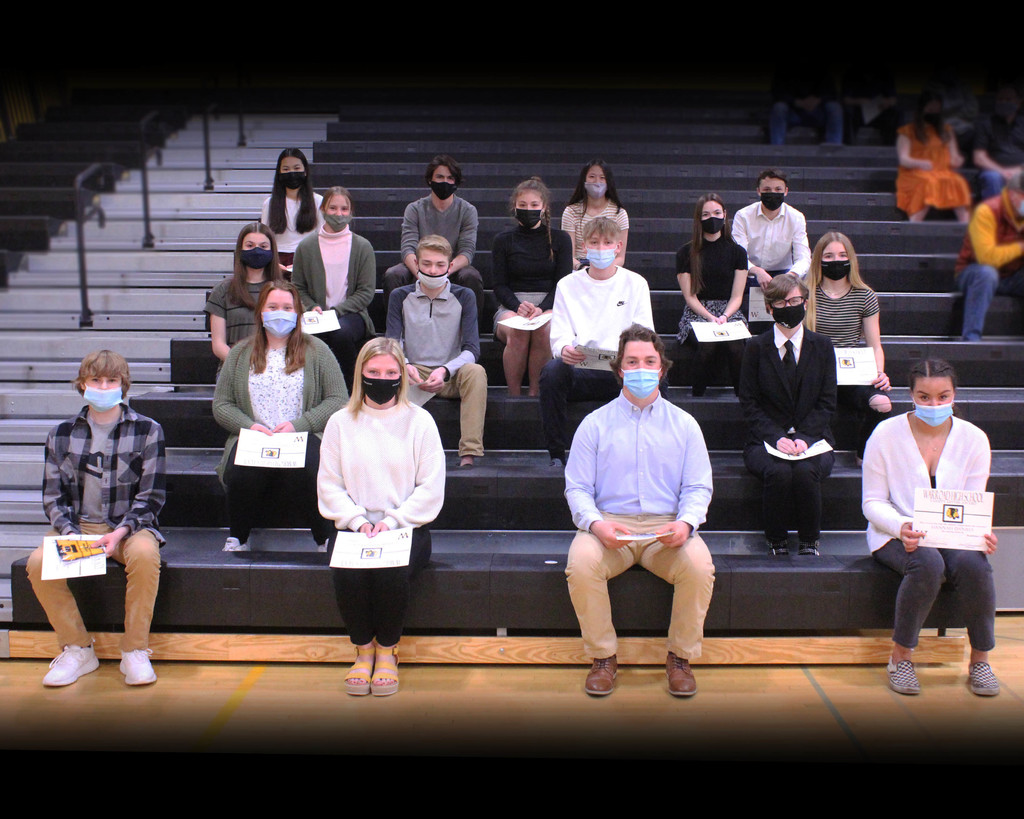 Academics Awards Ceremony tonight, Monday, April 26th at 7 pm in the HS Gym. Students received a letter in the mail indicating they had received an academic letter. This will also be streamed on the school's YouTube channel, Social Media ISD 690
Tues. April 13th (today) we will be having a 11th & 12th grade Class Meeting at 6 pm. This meeting will be covering clarification regarding Prom and Graduation. If your son/daughter is in 11th grade and not planning on attending Prom, you will not need to attend. After the Prom discussion, 11th grade students/parents will be asked to leave. We will then discuss graduation. If you are unable to attend information will be posted on Schoology or available for pick-up in the HS Office. Here is the link to the meeting if you would rather attend via Google Meet: 11th and 12th grade Meeting Tuesday, April 13 · 6:00 – 7:00pm Google Meet joining info Video call link:
https://meet.google.com/pkt-mpcc-csj
Or dial: ‪(US) +1 318-433-2051‬ PIN: ‪101 982 361‬#
Attention Junior and Seniors!! Updated time of meeting for Tomorrow, Tues. April 13th... 11th and 12th grade Parent/Student meeting at 6 pm in the HS Gym.
Conferences will be held tomorrow, Tues. April 13th. Home Room Teachers will be contacting their families between the hours of 3:30 and 7:30 pm. NO IN PERSON CONFERENCES! 11th grade Parent/Student meeting in the HS Gym at 6:00 pm 12th grade Parent/Student meeting in the HS Gym at 6:30 pm