The Warroad High School Student Career and Guidance Department provides students with guidance, resources and information to help them make important decisions to take the next step in life.
Whether you are starting high school, graduating or an alumni, our staff can help you navigate through class registration, college admission, scholarship applications or help guide you any other path you choose after high school. We are here to help.
On this page you will find links to information about the services we offer as well as forms you will need to fill out. If you need to talk to a staff member immediately you can contact Mrs. Bridget Lindner, Career and Guidance Director - LICSW at (218) 386-6051 or email at bridget_lindner@warroad.k12.mn.us or you can stop in the Career and Guidance Office in Warroad High School.
Welcome to the Warroad High School Counseling & Career Page!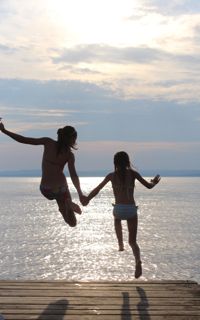 Let's take "The Big Leap" together! Whether you are wanting to go into the military, onto college, enter a training program or work, we want to make sure you are ready for this next step in life.
I've included a picture above of my daughter and family friend jumping off the dock at our favorite summer place. I love how students will just throw themselves into things with sheer joy. What a fabulous time in life, to be young and full of potential. The enthusiasm is contagious.
For you parents, having a high school student is a big leap, too. Soon they will be leaving the nest and you need to pack in as much guidance, love and support as you can in these next few years. I'm here to make sure you feel ready to let them go, confident that they will be successful in the path they have chosen after high school. As you navigate this process, please allow your kids the opportunity to do the work, fill out the forms, remember their own homework. Being given increasing levels of responsibility in a safe environment is the best lesson to lead towards functional independence.
To my students, high school is only the beginning, thankfully. The big leap occurs when you go to your first day of class, at a college of your choice, and the life you want to lead begins to unfold. I'm here to make sure you get there, wherever that place is.
Stop in and see me.
Mrs. Lindner, LICSW
Warroad High School